Chinese NGOs need to publicize efforts on climate
Not enough is being done to ensure rest of the world sees strides being taken, experts say
Chinese NGOs need to better explain to the rest of the world what they are doing in the fight against global warming, insiders said.
China has seen a boom in the number of climate-related NGOs in the past decade, according to Wang Xiangyi, deputy secretary-general of the China Association for NGO Cooperation.
When her association launched the China Civil Climate Action Network in 2007, it only had 10 local NGOs. The number has since increased to 33, she said.
She also said there are still many Chinese NGOs who don't know their ventures are climate-related, although they have been actively promoting projects that could help with climate change mitigation and adaptation. Wang cited planting of drought resistant crops as an example, which had a side benefit of mitigating climate change.
Many Chinese NGOs participated in this year's United Nations climate change conference in Madrid, held from Dec 2 to 15, to share their stories.
One of them was the Yunnan Green Environment Development Foundation, which is based in Kunming, Yunnan province.
Though the foundation is only a grassroots NGO with 12 employees, it has been carrying out climate-related projects for more than a decade.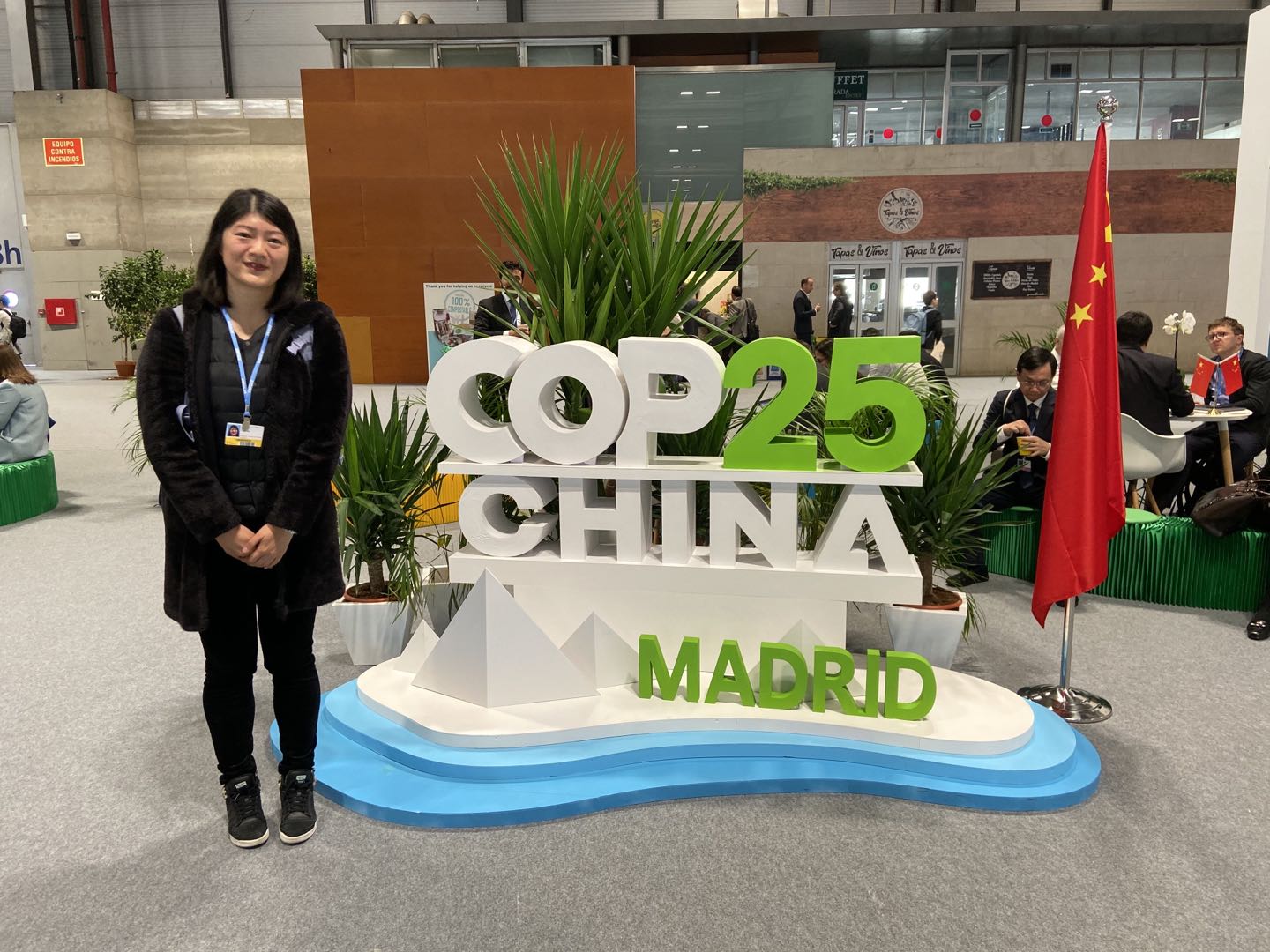 Jia Yuan (Yunnan Green Environment Development Foundation) is on the COP25
Jia Yuan from the foundation said among its achievements was the promotion of 47,000 methane-generating pits in 37 villages from 2008-2015 to discourage locals' reliance on wood for cooking.
They had also promoted the use of solar-energy powered street lamps and water heaters, as well as energy-saving stoves.
Environmental protection awareness classes had also been run, and from May to October a low-carbon program was extended to a Laotian village with over 400 people.
But very little of the good work on climate change had been publicized to the outside world, insiders said.
Guo Hongyu, who works with Greenovation Hub, an NGO focused on policy analysis and research, said China had done a lot on climate mitigation and adaptation. However, a great deal of that work was not known by the outside world.
Chinese NGOs needed to play a stronger role in publicizing their achievements, she said.
Li Xiajie, deputy director of the International Department at the China Association for NGO Cooperation, echoed Guo's assessment. "They (Chinese NGOs) also need to beef up their capability in conducting climate-related work in a way that can be clearly understood and accepted by the international community," she said.
Report by Chinadaily, December 20 2019